Veronica Rundell has done a lovely summary of what you'll get in Unconditional Surrender. Releasing Tuesday, and 99c only for the first week, so get your copy now!
V's Reads...
Hi all! Today I'm sharing on a review on a bundle of novellas that is guaranteed to touch your heart, and your naughty bits!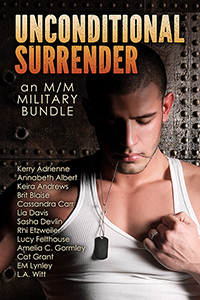 About the Book:
Strong. Sexy. Sizzling.
There's nothing like a man in uniform, and thirteen of today's hottest gay romance authors are celebrating military heroes and the men brave enough to love them.
These brand-new novellas feature all branches of the service and offer something for every reader. Almost 300,000 never before published words!
My Review:
This collection of novellas has a little something for anyone who loves M/M romance and/or military men. Many of the stories are of active duty professional soldiers, in all branches of the military, but there are some with retired veterans, as well.
First Connection stories:
LA Witt, EM Lynley, Kiera Andrews, and Lucy Felthouse all offer stories of first connection between men active in duty with fellow soldiers. Witt's FLIGHT…
View original post 1,609 more words